The teachers at each of the schools in the Bartlesville Public Schools district have selected their respective Teachers of the Year and Rising Star Teachers. Rising Star Teachers are those with less than five years of teaching experience.
Each site's honorees will be celebrated at a public program on Thursday, April 6 on Rigdon Field at Doenges Memorial Stadium in a fun baseball-themed event starting at 5:30 p.m. when the District Teacher of the Year and District Rising Star Teacher will be announced.
The program will also include recognition of the Kurt Schmoldt Teacher Appreciation Award recipient; nominations for that award are open to the public and due February 22.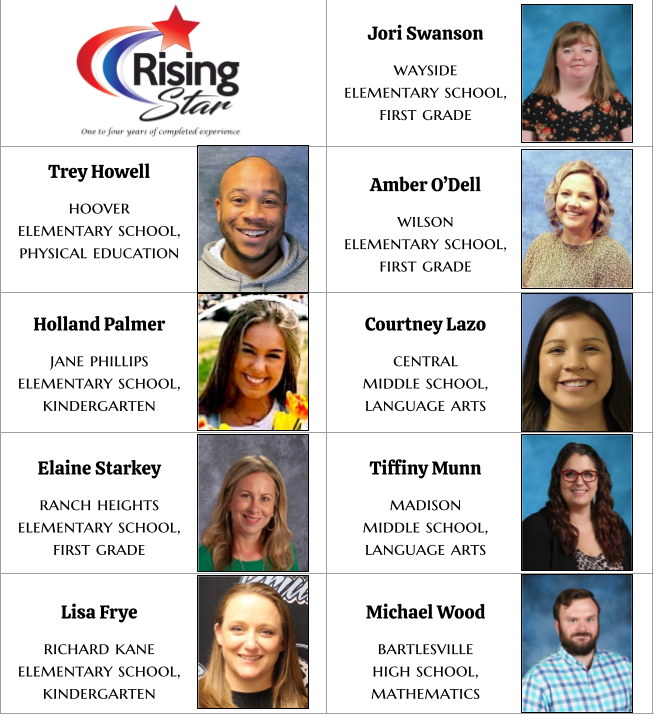 School
Teacher of the Year
Rising Star Teacher
Hoover Elementary School
Ashley Welchel
Music
Trey Howell
Physical Education

Jane Phillips Elementary School
Grace Coleman
Kindergarten
Holland Palmer
Kindergarten
Ranch Heights Elementary School
Kelsey Bridges
Fourth Grade
Elaine Starkey
First Grade
Richard Kane Elementary School
Erin Perry
First Grade
Lisa Frye
Kindergarten
Wayside Elementary School
Patricia Blain
Kindergarten
Jori Swanson
First Grade
Wilson Elementary School
Kaitlyn Johnson
Third Grade
Amber O'Dell
First Grade
Central Middle School
Patty Waldorf
Language Arts
Courtney Lazo
Language Arts
Madison Middle School
Lauren Roberts
Language Arts
Tiffiny Munn
Language Arts
Bartlesville High School
Gretchen Watson
Mathematics
Michael Wood
Mathematics