The Bartlesville Education Classified Personnel Organization had a Holiday Sock Drive and donated 865 pairs to the Lighthouse Outreach Center and 94 pairs to Brookdale Bartlesville North Assisted Living.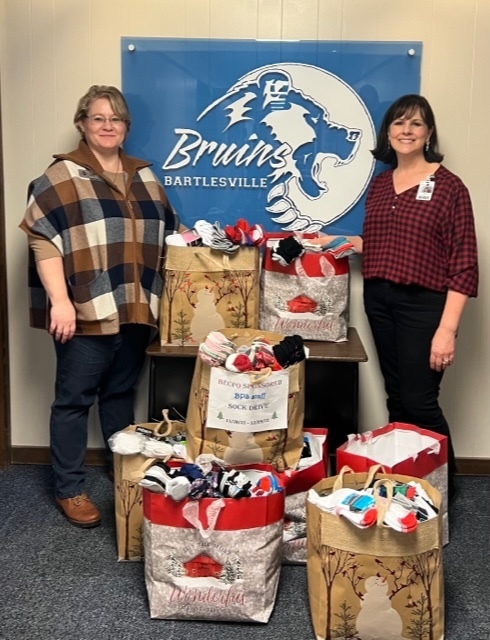 Richard Kane Elementary kindergarten teacher Lana Bell has been awarded a plaque and a $300 check for being selected a Bartlesville Teacher of the Month by Arvest Bank and Patriot Auto Group. #bvillebruwin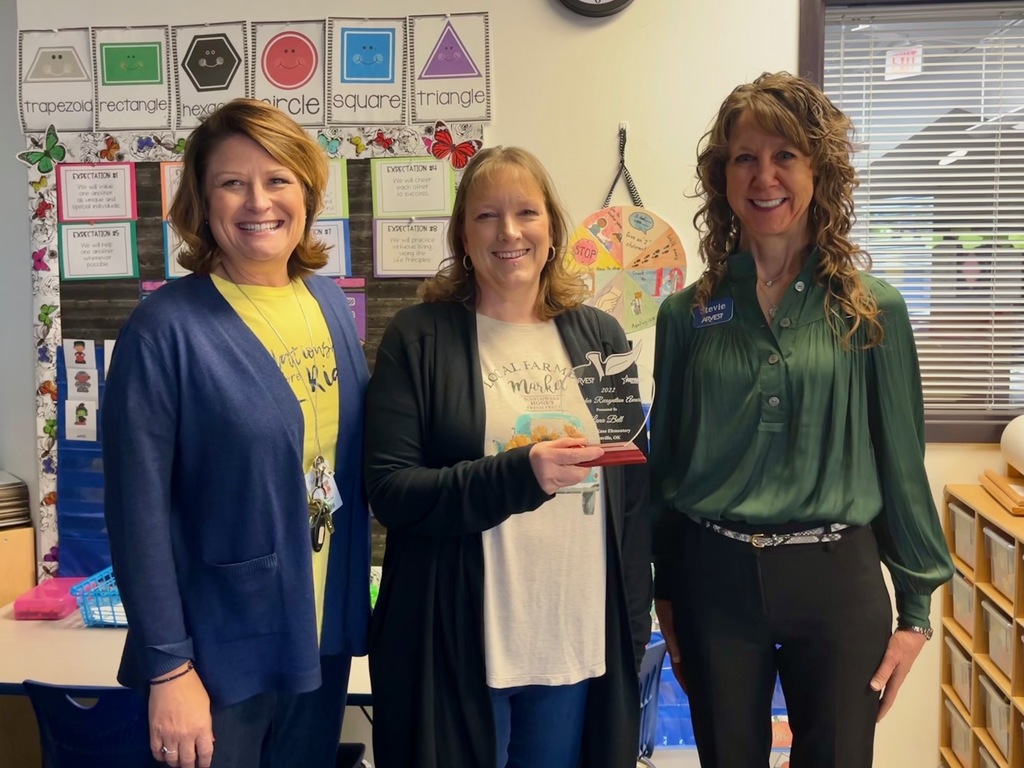 Friends In Deed, Inc. will again host a Free Christmas Day Dinner from 11:30 a.m. to 2:30 p.m. on December 25, 2022 at Adams Blvd Church of Christ, 3700 Adams Blvd, in Bartlesville. [BPSD is not sponsoring this event]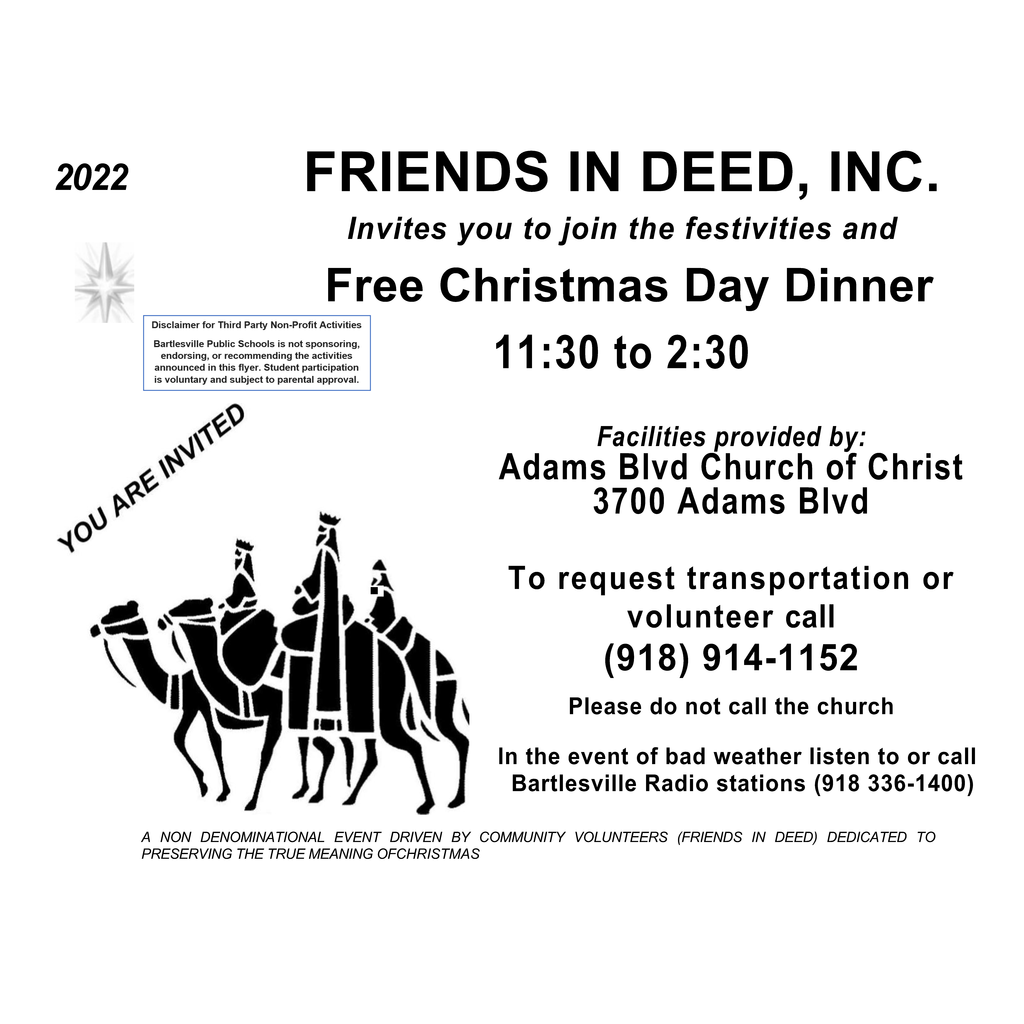 Jane Philips Elementary instructional coach Stacey Goodwin has been awarded a plaque and a $300 check for being selected a Bartlesville Teacher of the Month by Arvest Bank and Patriot Auto Group. #bvillebruwin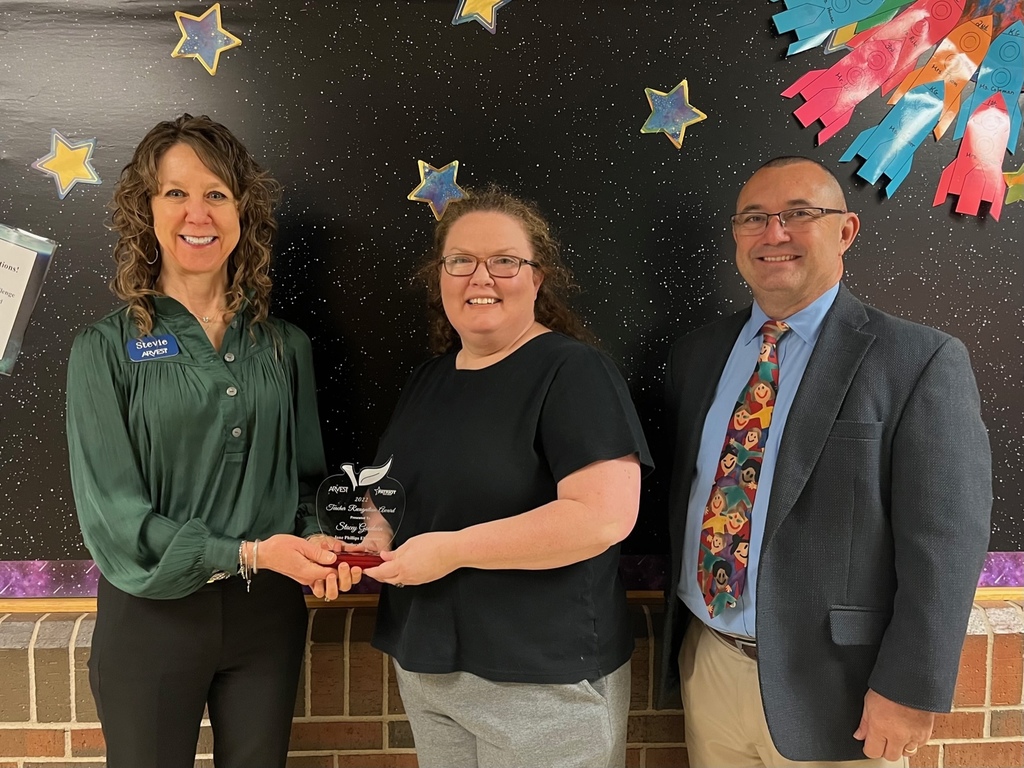 On Friday, 11/18/2022, the Bartlesville Police Department is hosting a Fentanyl Forum at the Bartlesville Community Center at 6:30 p.m. A panel of experts will discuss issues from Fentanyl in the community. Disclaimer: This event is not sponsored by the school district.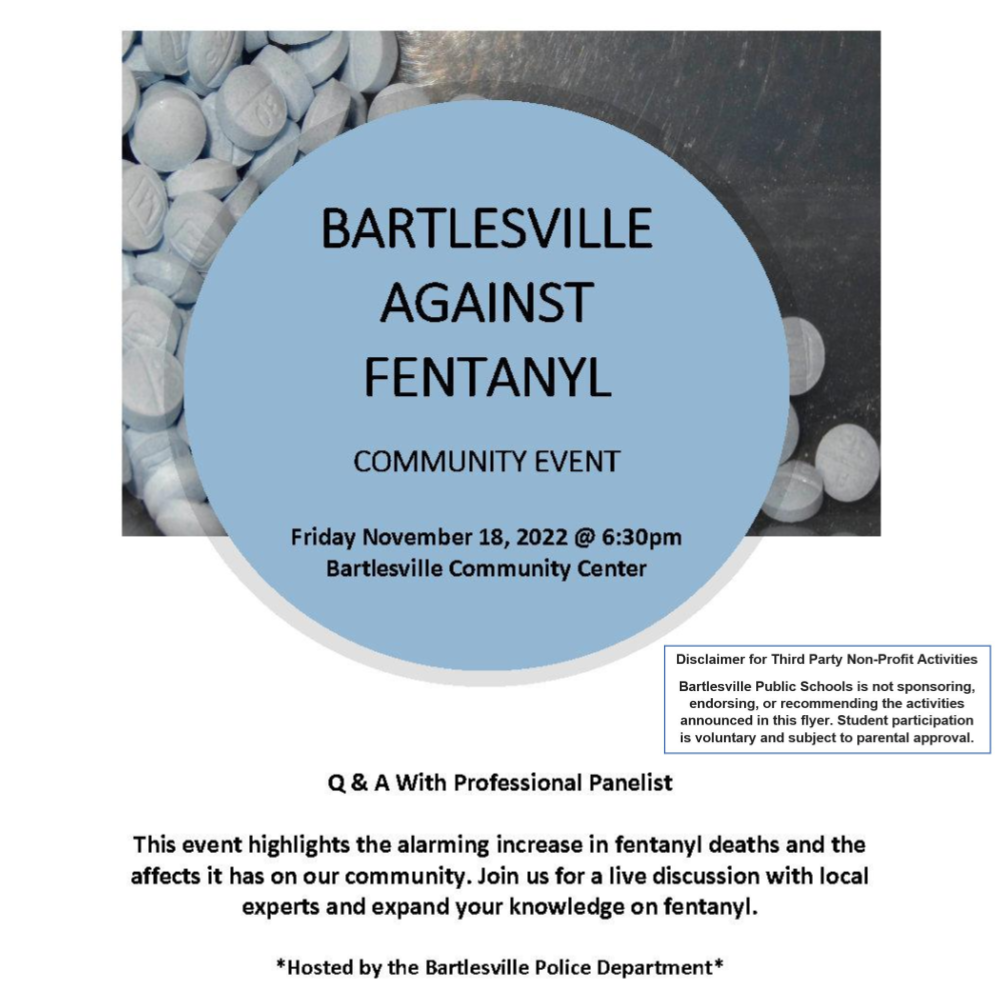 Nonpartisan information on the November 8 election is available from the League of Women Voters of Oklahoma at OKVOTERGUIDE.COM. Like the League, Bartlesville Public Schools does not endorse or oppose any candidates nor take a position on state questions.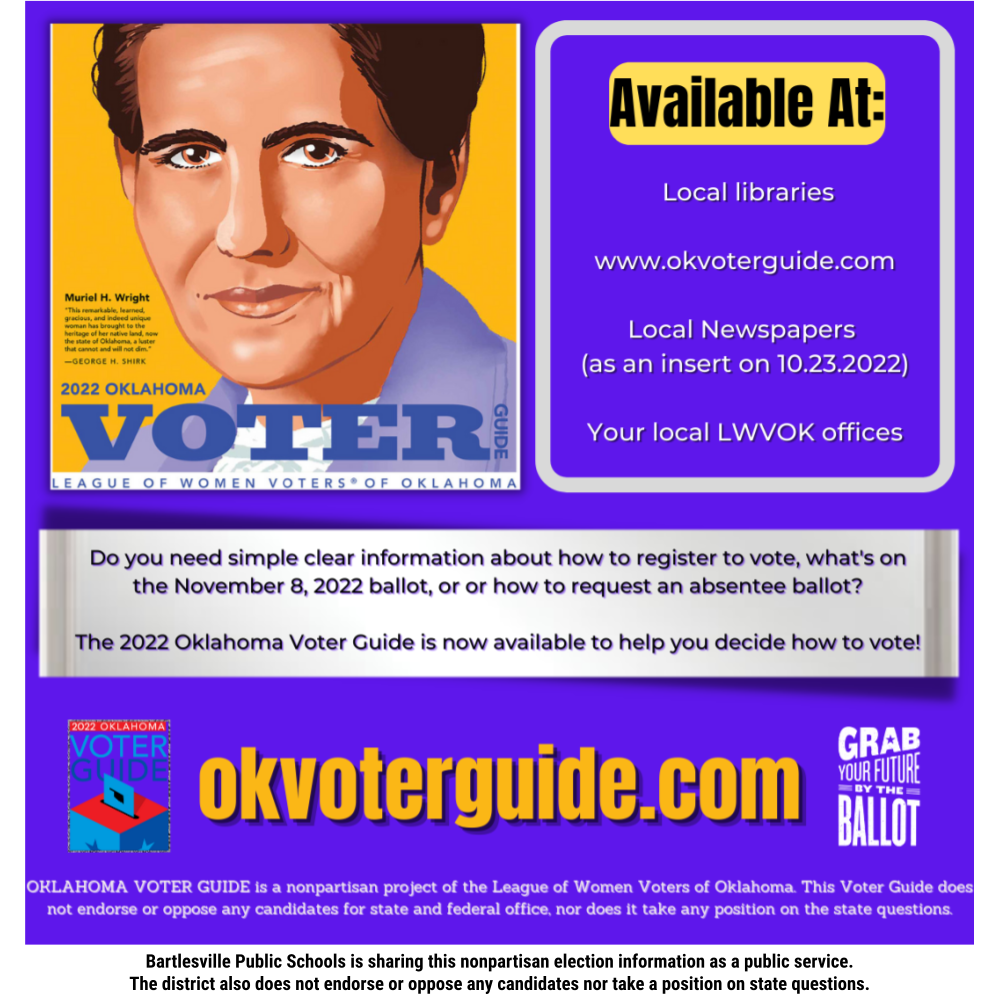 Principals, thank you for being a guiding light for our schools. We are celebrating you all! #ThankAPrincipal #bvillebruWIN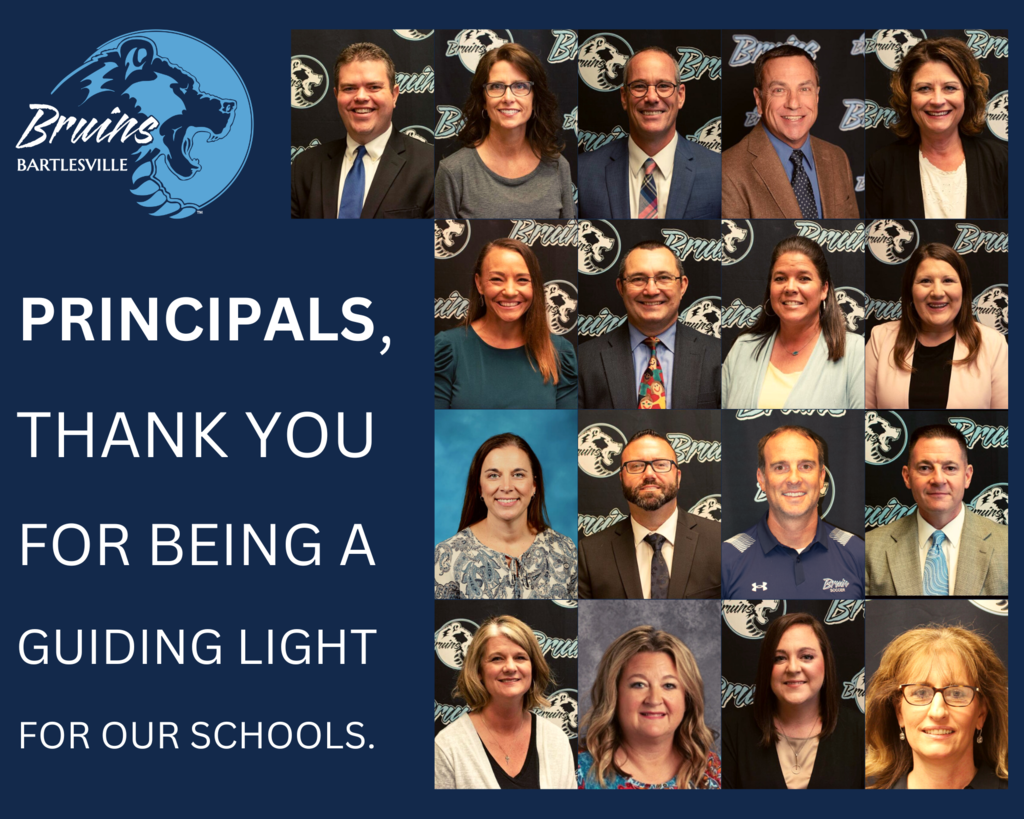 172 BPS employees registered for the Run the Streets Woolaroc 8k on Saturday. Wilson Elementary won the Supt. Wellness Challenge with 48 total registered, with Wayside close behind at 35. "Wilson is excited and proud to win the Supt. Wellness Challenge for the 5th year in a row. Our faculty and staff are truly striving to become healthy Bruins and this is a fun way to promote the idea of wellness in our building," said Wilson Principal Staci Bankston.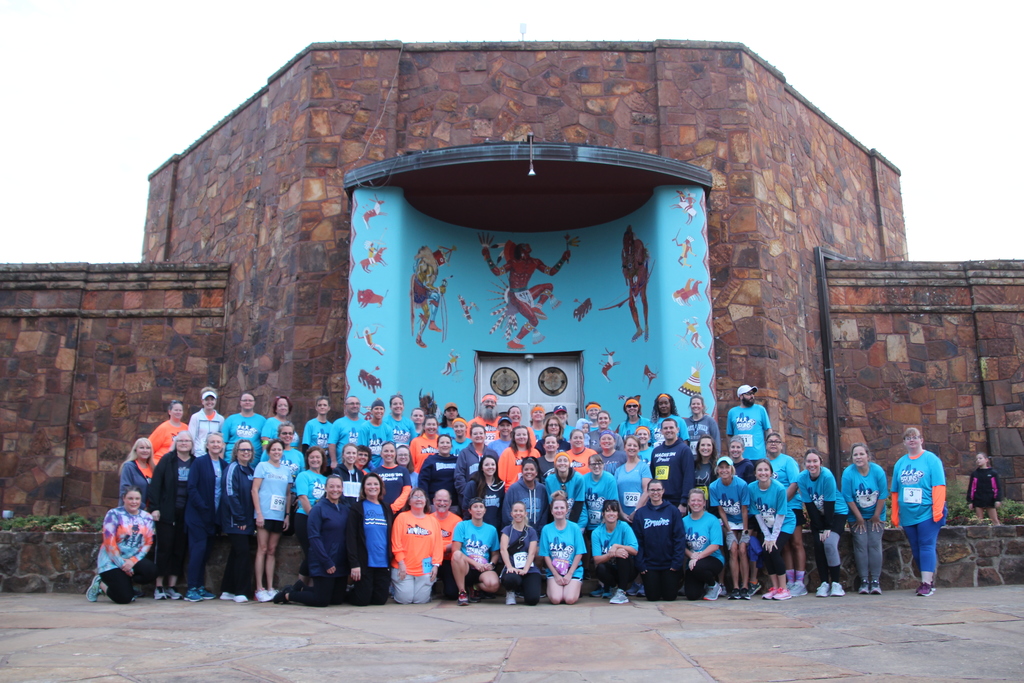 Bartlesville Fentanyl Forum at The Center - November 18th 6:30 PM - Hosted by the Bartlesville Police Department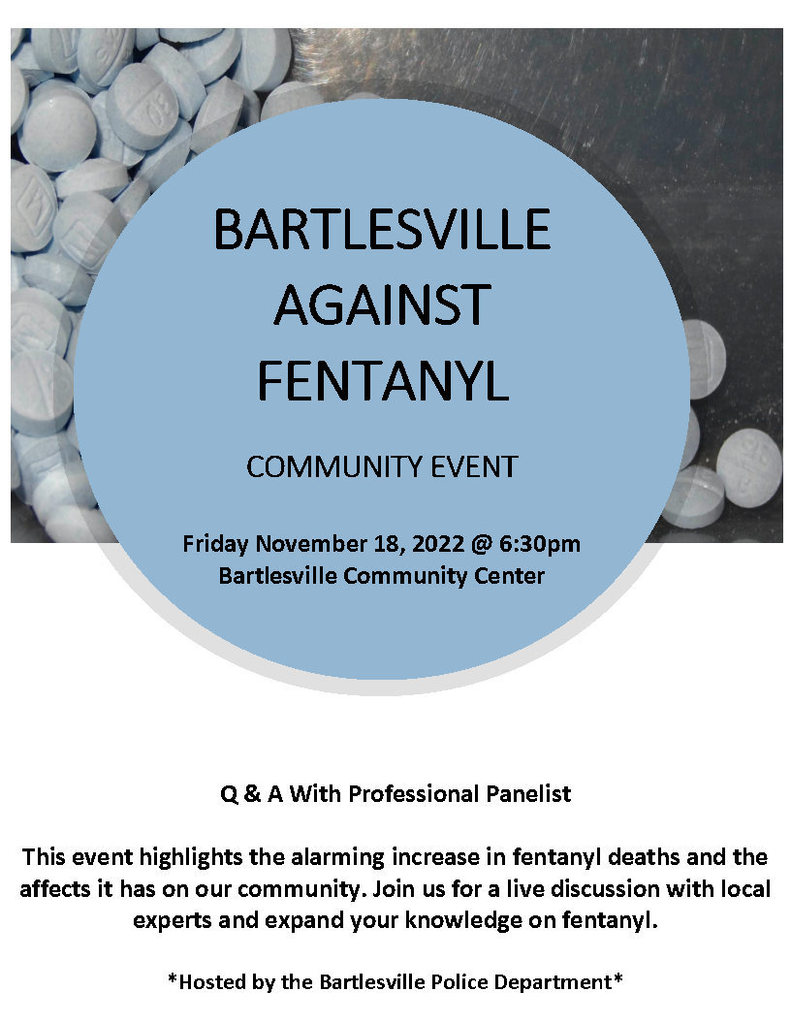 Central Middle School STEM teacher Lolly Williams has been awarded a plaque and a $300 check for being selected a Bartlesville Teacher of the Month by Arvest Bank and Patriot Auto Group. #bvillebruwin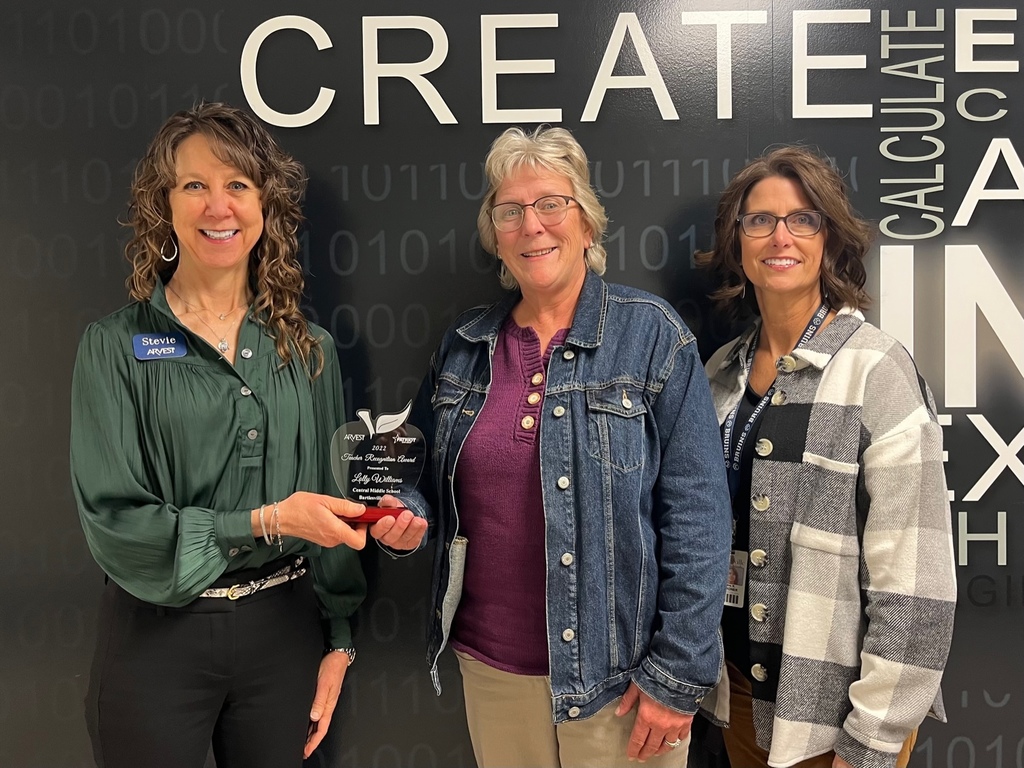 Washington County FLU VACCINE CLINIC on Monday, October 24, 4-6 p.m. @ the Washington County Health Department (5121 SE Jacquelyn Ln, Bartlesville). WALK-INS WELCOME while supplies last.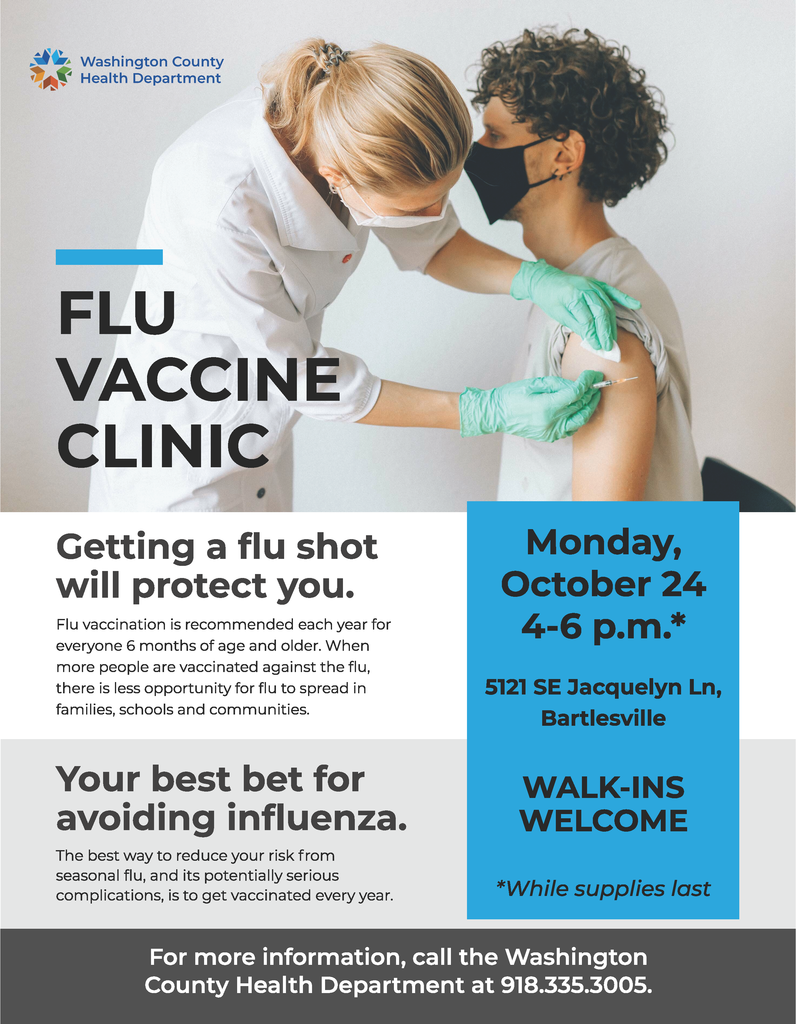 We were happy to have a full house today at the district Parent Support Group Luncheon, where they heard updates from Superintendent McCauley, Safe & Healthy Schools Director Kerry Ickleberry, & Bartlesville Public Schools Foundation Executive Director Blair Ellis. #bvillebruWIN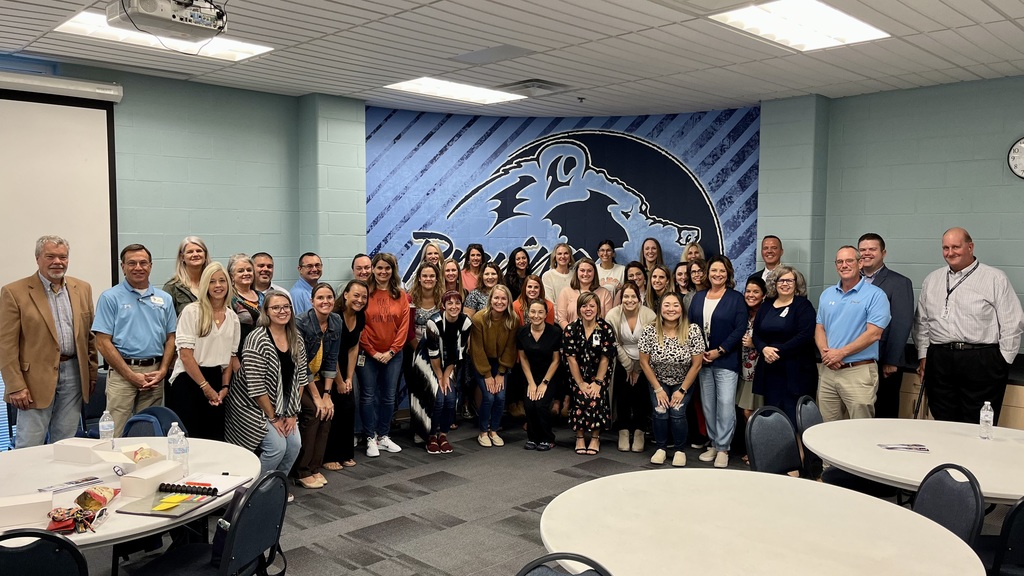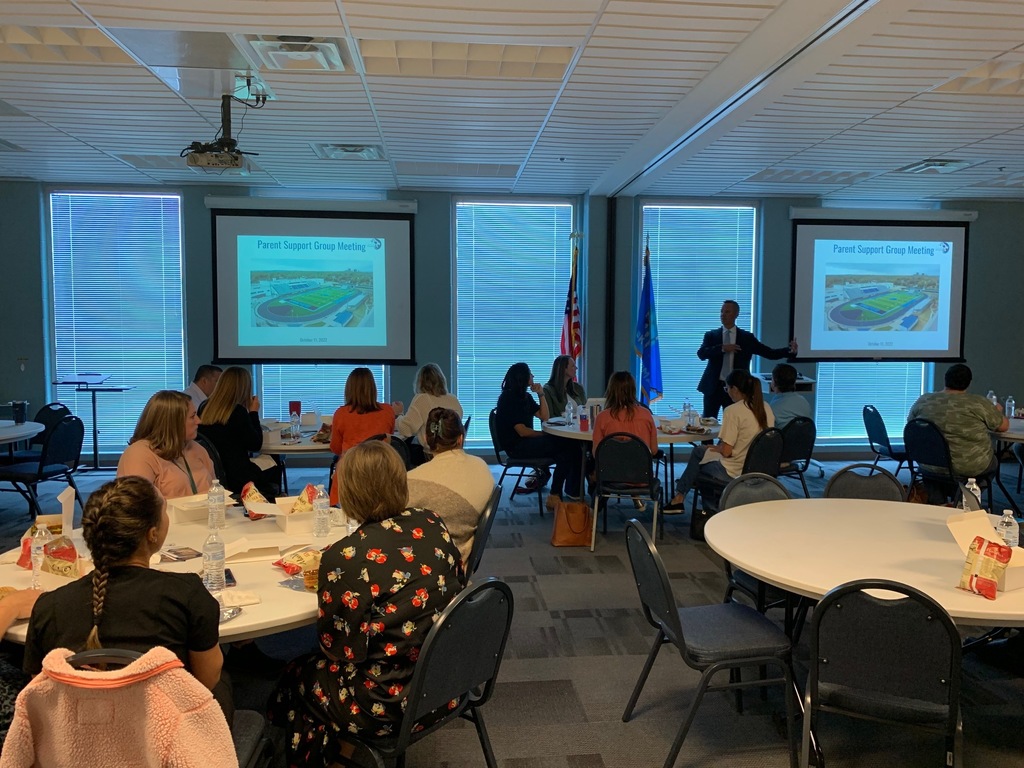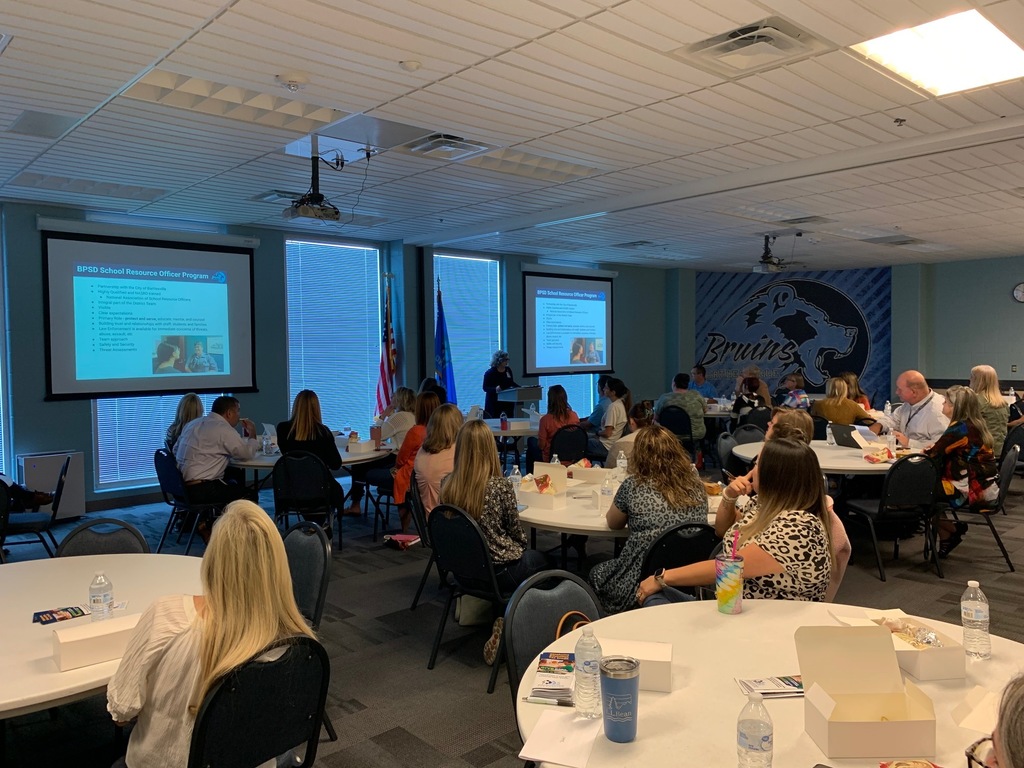 Due to low water pressure affecting services and fire protection at multiple schools and grade levels, classes are CANCELLED for Friday, October 7 for all of the Bartlesville Public Schools. No virtual classes, either. Classes will resume on Monday.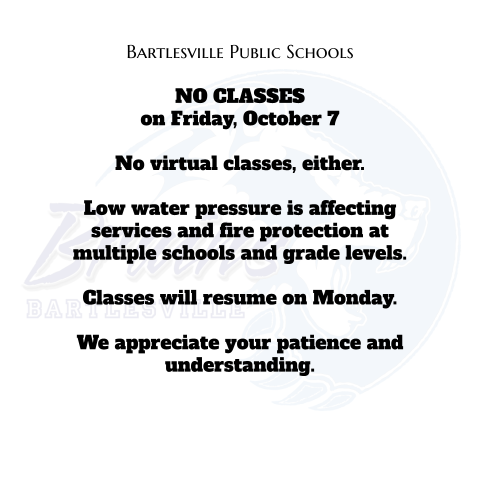 Bartlesville Bruins Homecoming Dress Up Days Oct. 17-21 #bvillebruwin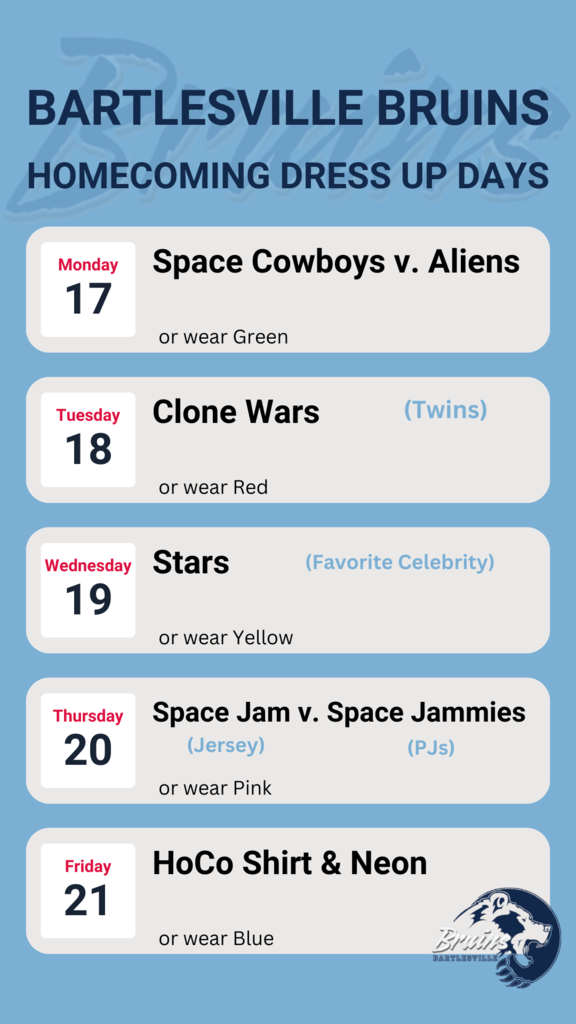 Students in grades 7-12 from around our region audition for selection to the North Central Directors Association District Honor Choir. This year we had 37 Bartlesville vocal music students selected for this honor. They will participate in a festival with guest conductors in Tulsa on November 7-8, 2022 and will perform in a final concert on the evening of November 8, 2022 at First Baptist Church in Tulsa. The concert will be free and open to the public. #bvillebruwin BHS: Noah Argo, Della Armenia, Ryker Burch, Elizabeth Butcher, Isabelle Carpenter, Isabella Cavaceci, Rae Coatney, Jecelle Dobson, Kelly Featherston, Lauren Fullerton, Connor Hart, Karina Kempf, Owen King, Ava Landham, Emma Lehman, Lucas Nash, Alex Ortiz, Evan Ortiz, Presley Osborn, Elizabeth Pendergraft, William Pendergraft, Samarah Robinson, Peyton Spangenberg, Tristan Stefanopoulos, Marisa Wells, Carter Wells, Joyce Yang CMS: Emma Ames, Isabelle Bilby, Beckham Bliss, Elliott Ingram, Trystin Stafford, Hudson Tesavis MMS: Hayes Farley, Michael Martinez, Noah Ramirez-Riddle, Riley Tatum Teachers: Margie Green, Sarah Long, Alex Rivera, Marissa Shaw, Tamara Walker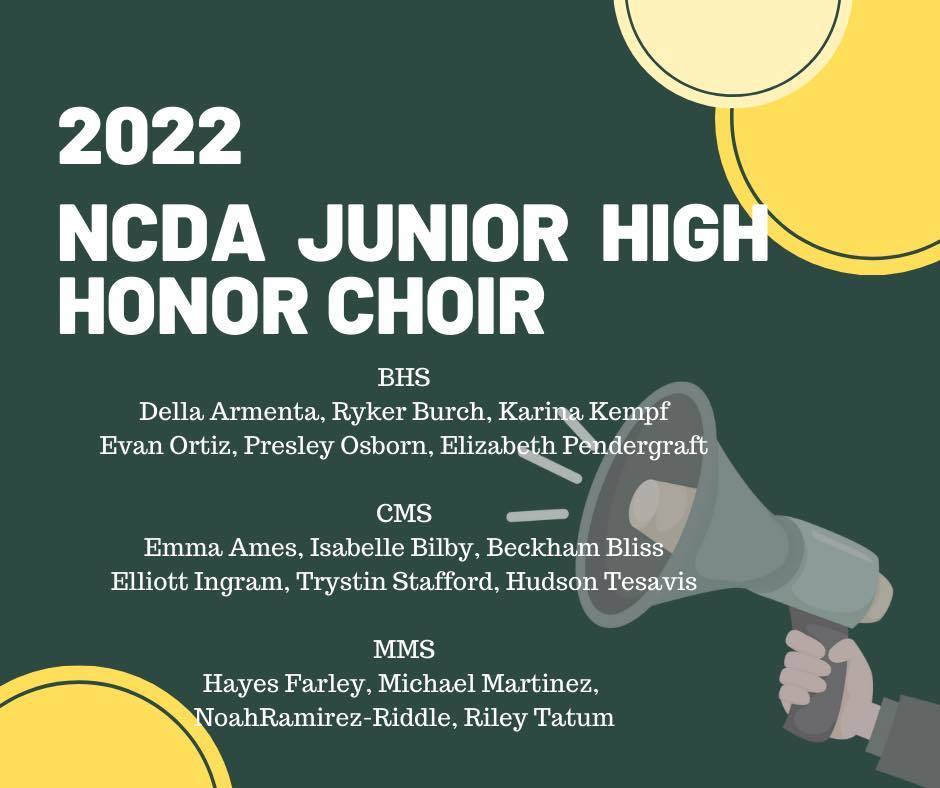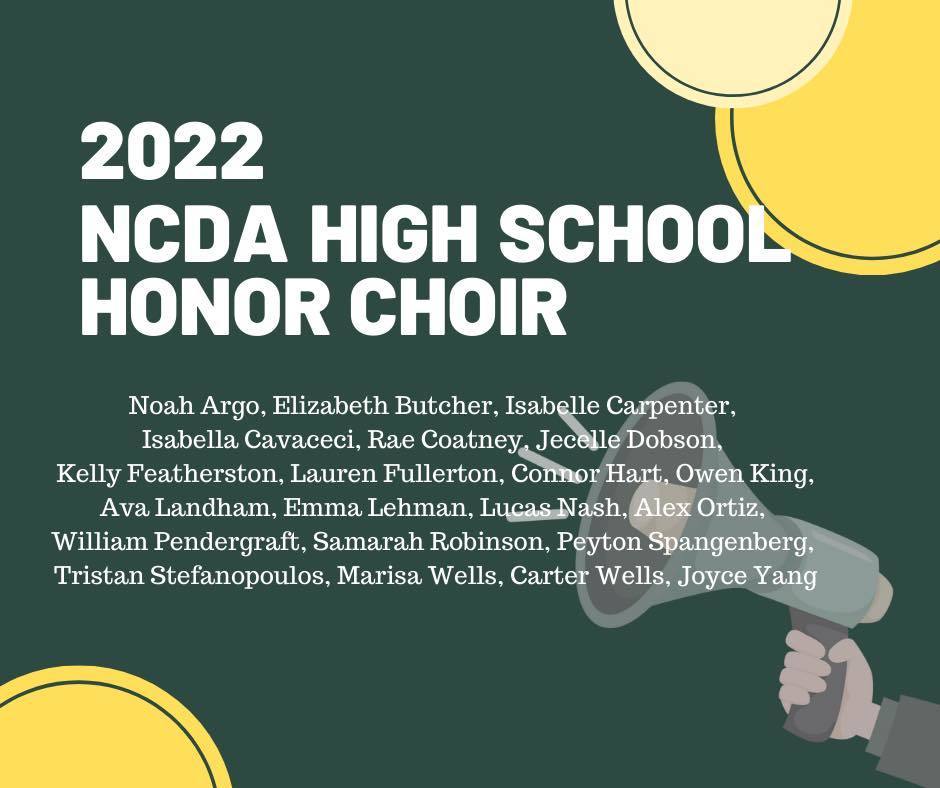 BHS THEATRE PRESENTS The Hobbit by Patricia Gray, based on the classic by J.R.R Tolkien. Oct 6th & 8th at 7pm in the BHS Fine Arts Center. Tickets are $5 presale & $10 at the door. Buy presale tickets from members of the cast & crew or Mrs. Roddy
Roddyaj@bps-ok.org
. #bvillebruWIN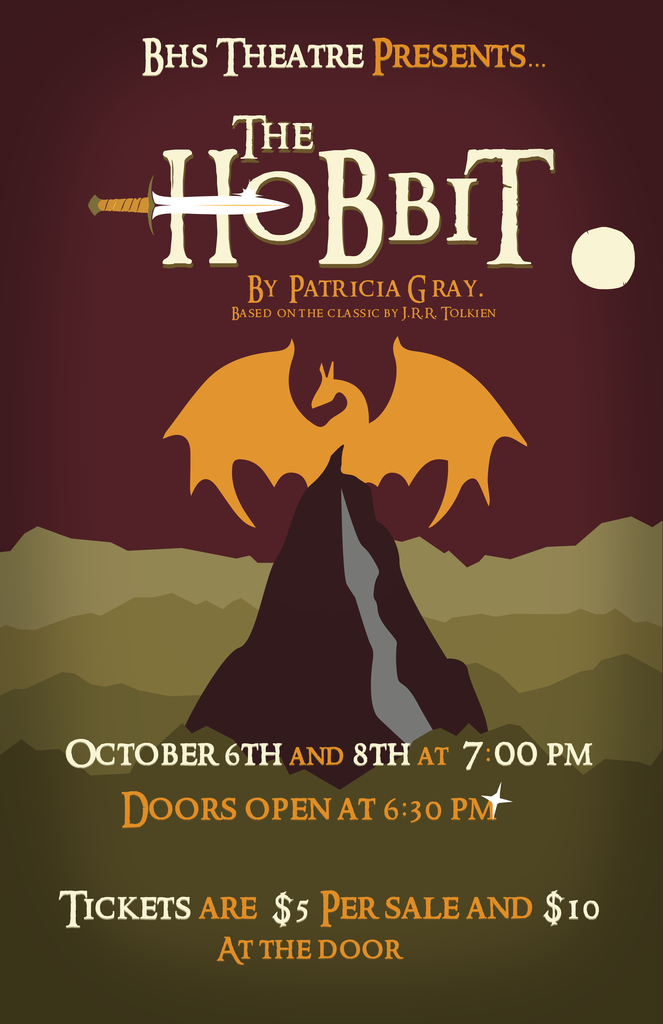 The Washington County Health Department is hosting a booster seat check event on Sept. 24. They will have nationally certified child passenger safety technicians on site to check & install booster seats, & a limited number of free booster seats available to those who qualify.

If you have a child under 5 years old who lives in a Bartlesville zip code, you can register today at
https://bpsfoundation.org/dolly
to have your child sent a FREE book every month until their 5th birthday!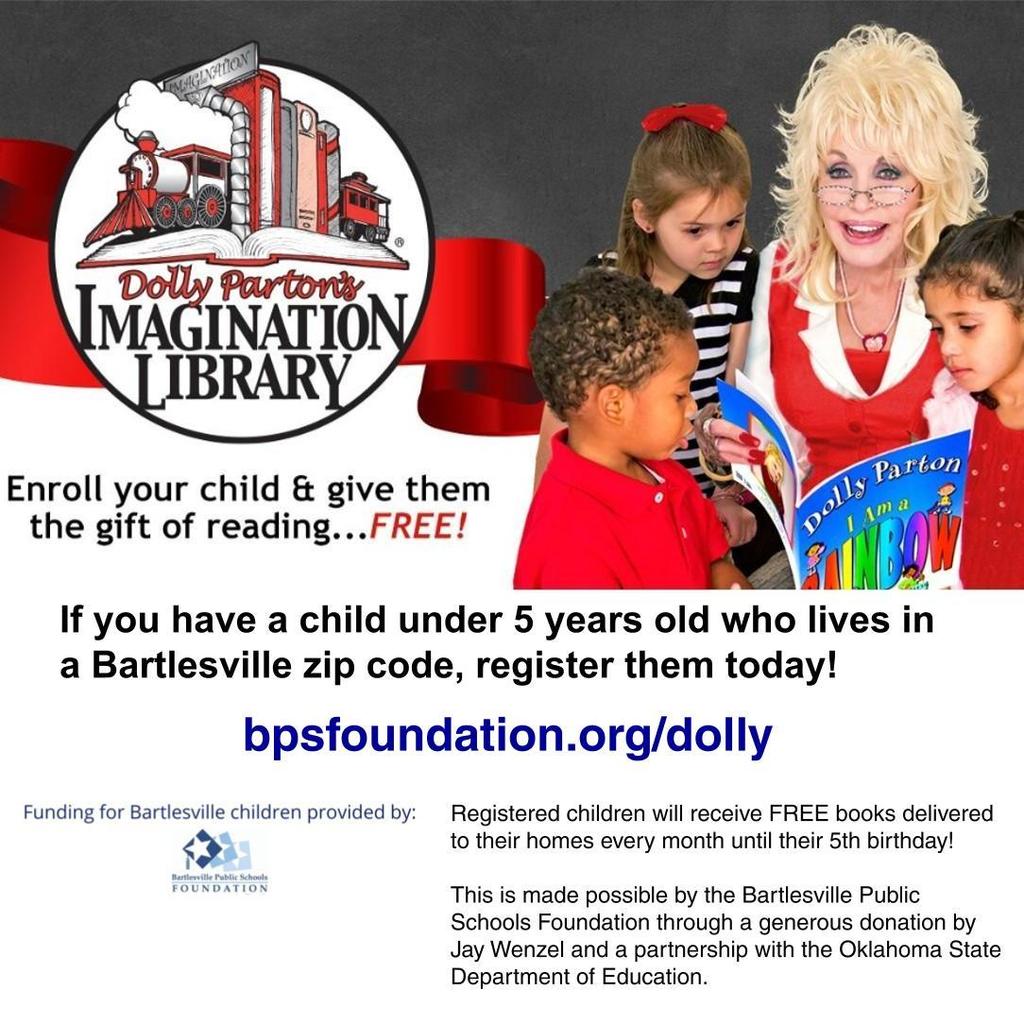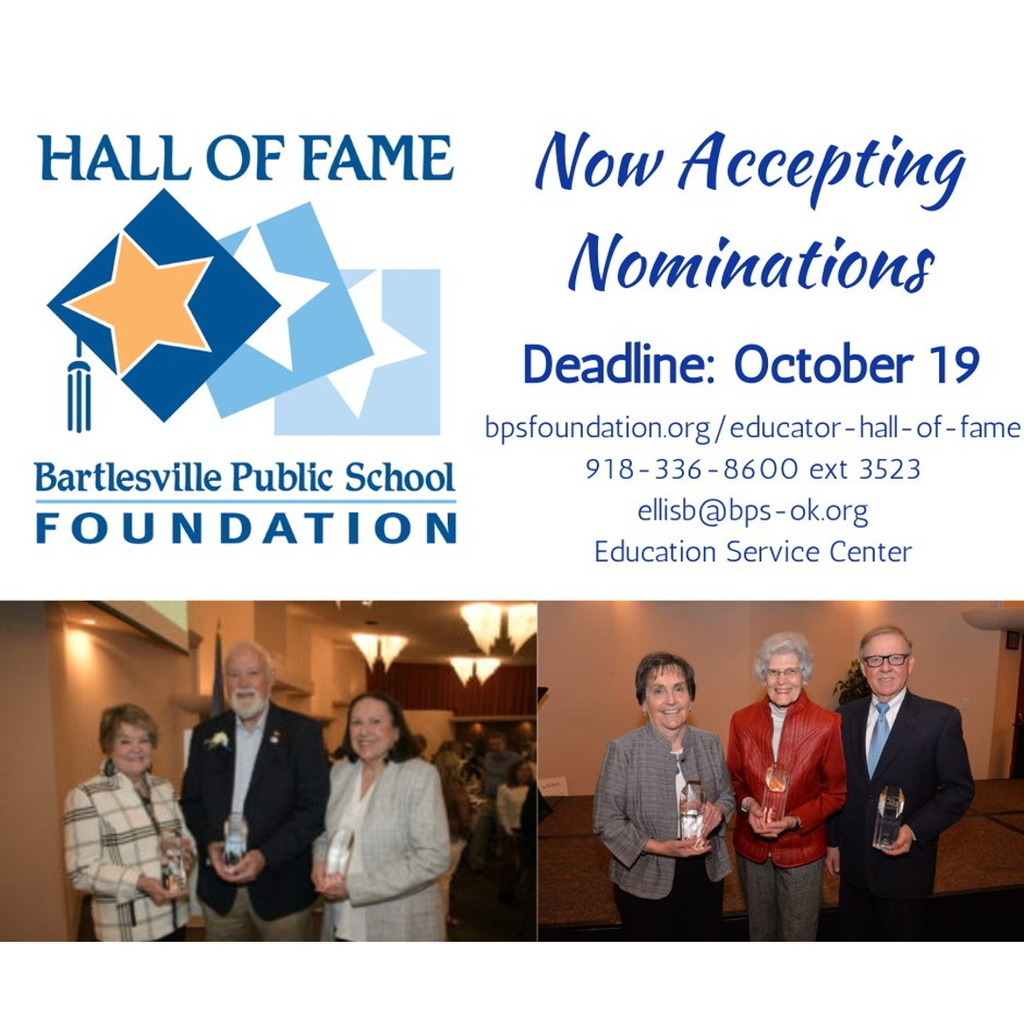 New teachers from across the district received training on Creating Uplifting Classroom Environments. #bvillebruwin